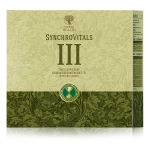 Buy
SynchroVitals III
# 500072 60 capsules
Heart Support Supplement
SynchroVitals III - is a new 2-phase chronobiological complex designed to provide a comprehensive range of nutrients and antioxidants* for healthy heart and vessels function. According to the intrinsic biorhythms of our heart and blood vessels, the ActiFazeTM complex supplies vitamins, minerals and herbal nutrients and other heart-nourishing
ingredients to support active circulatory function. The RestFazeTM complex helps support our cardiovascular system during sleep.
Recommended use
Take three (3) capsule of the Morning Formula each morning, take one (1) capsule of the Evening Formula each evening with food or water.
Morning formula: vitamin C (as L-ascorbate), vitamin E (as natural d-alpha tocopheryl succinate), vitamin A (as retinyl palmitate), beta-carotene, zinc (as zinc citrate), copper (as copper L-lysine chelate), manganese (as manganese sulfate), selenium (as L-selenomethionine), L-carnitine (as L-carnitine tartrate), lycopene, soybean extract (40% isoflavones), grape seed extract (90% oligomeric proanthocyanidins).

Evening formula: micronized omega-3 fatty acids, EPA, DHA, hawthorn flowers extract.